Rentals & Services >
Roof & Stage Systems
Rocky Mountain Rigging has built its reputation on building roof and stage systems that meet the needs of modern-day entertainment while maintaining safety as the number 1 priority. RMR works closely with their clients to make sure tours get what they want, producers get a fair price and people can work or play in a safe environment.
See one of our stages in action at Sasquatch 2010

Click Here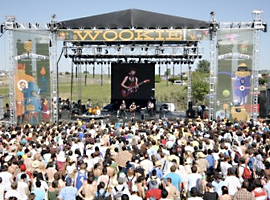 45'x45' Total Structures Roof System
The "Work Horse" of the RMR quiver, this popular load-bearing roof can have from 4 to 10 posts depending on production needs. This system can be built on just about any site or location imaginable. Custom made for RMR in 2009 by Total Structures, this roof system has been engineered and stamped by the most trusted and cutting edge engineers in the Industry.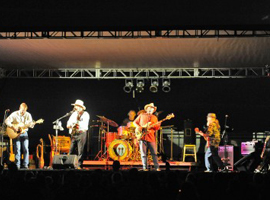 30' x 20' Roof Systems
This roof is popular with the wedding and local festival crowd. Capable of hanging a reasonable sized lighting system, this slick structure gives events a professional feel at a modest price.
Download Drawing: Total Structures 30x20 M/D Grid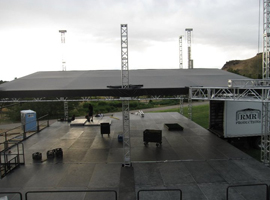 Staging systems
Our staging systems come in 4x8 dimensions and can be built to any size at any height, For Rock concerts, fashion shows, weddings, graduations, ADA ramps, press risers, our decking systems are always built with safety and aesthetics in mind. Complete with skirting, handrails, and stairs.
Manufactures offered: StageRight, Staging Concepts, Wenger, Custom Decking