Rentals & Services >
Crowd Control
Crowds are a result of a successful event, but crowding can also lead to both individual loss of control and group panic, causing unforeseen injury and damage to equipment. There are many solutions to crowd control that are both affordable and easy to use.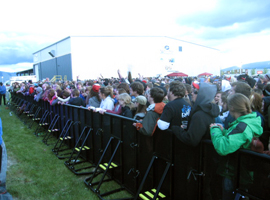 Heavy Duty Barricade
This heavy-duty crowd barricade provides safety to both patrons and security. Standing 48" tall and 48" wide this steel constructed unit weighs just under 150lbs. Mesh walls provide increased visibility while allowing sound and lights to pass. A tapered floor base minimizes trip hazards and creates the ballast that allows the unit more stability. Barriers interlock to create a solid wall. Built in step for better Security management. Easy pin lock requires No tools.

Stageright Tech Sheet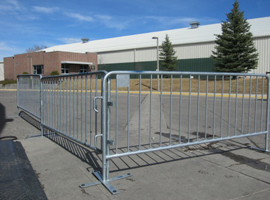 Bike-Rack Barricade
Our Bike Rack Barricade is the standard in basic crowd control and creating perimeters. By interlocking each section with the next you can quickly form a barrier that is adjustable in shape and length. The galvanized steel construction is dependable yet can be maneuvered by a single person.
RMR Can provide you with these rental items as well as include delivery and setup.