Rentals & Services >
Rigging Packages
RMR has the unique ability to both offer custom rigging packages for tours or one day events and also provide the qualified personnel to install them.
Broadway-Style (line-sets) Rigging Packages in Theatres and Arenas
The demanding nature of broadway tours can be logistically overwhelming in means of personnel and infrastructure. At RMR we can provide "Pre-rigs" and install line-sets prior to the tours arrival to lesson the stress during load in. With hundreds of feet of 12" and 20" truss and steel pipe available, RMR can provide your next arena or theatre show with the necessary infrastructure. RMR also provides all the necessary chain hoists and rigging hardware to safely integrate your tour it any building.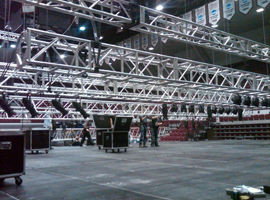 Truss Rentals
Modern Aluminum truss has become the industry standard for supporting loads in both horizontal and vertical planes. The lightweight yet sturdy design makes truss ideal for constructing temporary structures for any live event. Perfect for both exterior and interior uses.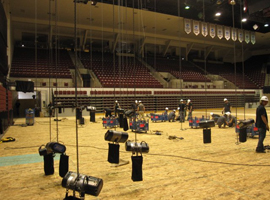 Motor Rentals
The Columbus McKinnon electric chain hoist has been a staple in the entertainment industry since 1955. RMR has ½ ton, 1 ton, and 2 ton CM motors for rent. All RMR motors have been serviced by a certified hoist technician and maintained for optimal use. RMR motor packages include all the necessary hardware and qualified personnel to complete your install start to finish.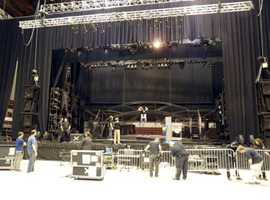 Soft goods for portable Prosceniums and Stage / Drapes Legs
The right soft goods can change any space into a special place for your event. RMR has an array of size and material options to suit your needs. From giant 40' tall velour legs with 50% fullness for your arena shows to 24" tall skirting for drum risers. RMR can also provide traveler tracks for center-pull and side -pull curtains. All our soft goods are made of fire-rated material with certified stamps for inspections.